Weekend Review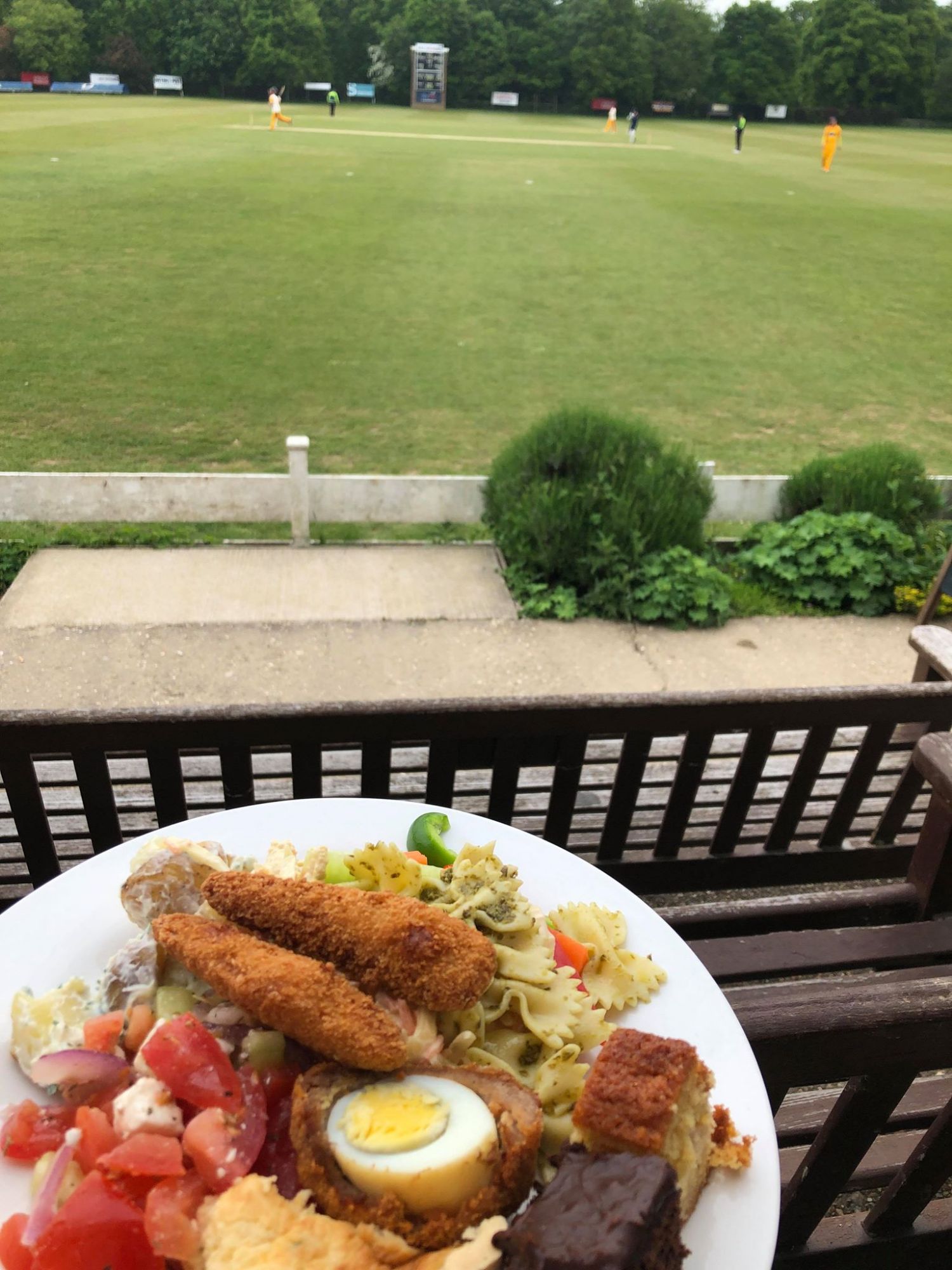 Weekend Review – 18th/19th May
Three weeks of the season has already flown by, and in week 3 it saw us finally pick up more than one win on a Saturday. The successful teams this week were the first team and the fourth team. We also had two other wins over the weekend, the Sunday side beat BMA and the under 10's beat Arundel on Saturday morning. There were some stand out performances for the league teams, and you can vote for player of the week on our twitter page now.
Game of the weekend – Sunday XI vs BMA – Won by 10 runs
It's that time of the week again. We hosted BMA this week, having won the toss, I decided to have a bat. Myself and Clarkey opened the batting. I was the first wicket to fall, not quite getting on top of a short wide ball and cutting it straight to point for 6. Clarke (11) was out next over, given LBW. Not a great start, but Raj Anumula and Simon Wright put on a 50 run partnership before Wright (32) was out, caught. Raj (26) was bowled a few overs later as well as Alex Hall (12). This left Amjad Mohsin and Theo Hemsley (18 no) to bat out the middle overs. Amjad making a very destructive 44 runs before being bowled. Sanderson (6) fell shortly after. Harry Merritt-Blann made 11 with very impressive shots. We ended the innings on 187 after 40. A defendable total.
Bowling started tight. Zack impressive 3 maidens (1 being a wicket maiden) from his first four overs. Dan Clarke taking a difficult catch, if somewhat comedic catch to dismiss one of the openers. Dan Foot opened from the other end and he was very tight with 2 wickets and 2 maidens. Harry Merritt-Blann also bowling very well, getting 2 LBWs for his efforts. BMA started making a comeback however, even looking like potentially reaching the total until the last 8 overs when Raj and Theo bowled very well, Theo claiming 2 wickets and the pair forcing pressure on the batsmen creating two run outs. Overall I was very pleased with how we played. I still have a long way to go however with my fielding positions. My player of the match goes to Theo for showing a lot of maturity both with the bat and ball.
By Sam Pannell
1st XI vs Stirlands – Won by 81 runs
The first team finally opened their account on Saturday when they hosted fellow strugglers Stirlands. Skipper James Askew lost the toss and his counterpart George Coles had no hesitation in electing to bowl first. There was a change at the top of the order as the skipper and Guy Souch swapped batting positions.
James Askew (9) and Tom Lee (12) put on 22 for the first wicket before the former decided to give catching practice to mid-on. Lee didn't last much longer as he was 'bounced' out by the big scary Australian bowler. Jack Turner (7) and Ally James (18) then proceeded to rebuild the innings, with the help of some wides, and took the score to 61-2. James then copied his skipper and Jack was out LBW. Mac Cox (10) joined the new middle order hitter Guy Souch (76) and they put on 64 for the 5th wicket. Cox was next to go, edging to slip, and Souch was joined by Mike Askew (19). They put on 48 for the 6th wicket. Lower order runs from Chris Heberlein (17) and Dan White (18*) helped push the score to a very respectable 247-9, the first team's highest score this season.
Another change of tactics saw Ryan Budd open the bowling alongside Cox. Will Gubbins (43) looked to attack early on but his opening partner Jake Moores (4) didn't last long with Cox getting him caught behind. Budd then joined the party when he got George Briance (1) caught down the legside by keeper M.Askew. Stirlands were struggling at 34-2. Michael Clowes soon came and went, and Gubbins was joined by his captain Coles. These two looked to rebuild the Stirlands innings, and they progressed the score onto 83-3 before J.Askew got the breakthrough, Coles was caught at slip by Cox for 23. Gubbins then fell in the next over to the wily bowling of Heberlein. Stirlands game plan changed, and now they looked to get as many batting points as possible instead of chasing the target set. Stirlands finished on 166-9 with all the LCC bowlers picking up wickets.
By Mike Askew
2nd XI vs Horsham – Lost by 6 wickets
The 2nd team travelled to Horsham knowing they would have to bat well to have any sort of chance.
Dazzler lost the toss and we were stuck into bat. Dazzler (42) and Harry (27) got the team off to a good start before falling in consecutive balls, both to poor shots by their standards. Dan Peach (0) then came and went after being bowled round his legs so it came down to Sophie Parnell (45) and Sam Mellor (56*) to rescue an innings that had started promisingly. They put on a 74 run partnership before disaster struck with Sam running Sophie out. Clarkey (4), Olly (6), Dheeraj (4) and Amjad (0) didn't give much support to Sam. It looked like another batting failure until Nick Larking (18*) came in and batted the last 8 overs with Sam to get us to a respectable if not outstanding score putting on 43 for the final partnership.
So we scored 224 off our 40 overs which was probably just short of par judging by what happened next.
Nick and Amjad opened the bowling and with hope of getting off to a good start like we had in previous games with the ball. However it wasn't to be after they had scored 128 in the first 13 overs (with Gerrard Weide scoring 95 of them) we finally got the first break through. Olly who has started the season well with the ball getting him caught behind. As much as the bowlers tried to build pressure unfortunately the damage was already done with his innings and we could never recover. Olly did take 3 wickets and was the stand out performer with the ball.
We need as a team to be able to bowl to plans when someone is putting pressure on us, maybe try a couple of different things but saying that Weide didn't give us a chance until the one he got out on.
A frustrating day once again but there are signs of recovery and becoming the side that was so good last year.
By Darren Bazley
3rd XI vs Eastergate – Lost by 7 runs
The 'Rivolution' has hit the buffers as the 3rd XI suffer back to back defeats, this time against Eastergate. Dan won the toss for the 3rd consecutive game and decided he would have a bowl. Stu and Raj opened up but it took them a few overs each to get into their strides as both batsman scored freely with a little help from extras. Raj finally managed to get the break through bowling the opener (kept a bit low). Stu found his line and runs dried up as Raj snatched another couple, leaving Eastergate 3 down with about 50 on the board after 14 overs. White and Kitchen then replaced Raj and Stu and the Eastergate batsman started to build their innings, all be it at around 4 an over. Drinks and Eastergate were 82 for 3, two balls after drinks, Will trapped the opener LBW for 29. Eastergate then started to punish the bad ball as Reed progressed to his 50 (ended on 66 not out), but wickets continued to fall and a direct hit from Raj got us the initial break through. Will picked up 1 more and Raj returning ended on 4 wickets and Stu with one. Eastergate ended on 177 for 8. This total included 17 wides and numerous no balls.
In response LCC opened up with Geoff and Rick, with Rick playing some nice shots through the offside until one kept low and he played on. Geoff fell to a similar fate and we were 20 for 2 but Lee and Birbeck began the repair job and at drinks were 80 for 2. But 3 balls after the drinks Andy spooned one up in the air and was caught at midwicket. Enter the skip who with Ian increased the tempo and were going at 5's and the scored progressed until Rive was out for 25. Birbs continued and with Stu the target should have been reached but as pressure began to tell, Birbs lost his middle pole for 33. Stu and Sam tried keep the tempo but in the end we fell 8 runs short, a case of too many extras when we bowled.
Well the 'Rivolution' needs reenergizing as we move onto Pagham next week.
By Dan Rive
4th XI vs Goring – Won by 6 wickets
Saturday saw the 4th XI hoping to turn one win into two against Goring 3s at Amberley. After attempting to use the loan system Goring were unable to add to their nine players.
Our two Foot attack opened up against past LA 4's opener Sandra Yee. Kevin was able to bowl his 9 overs taking 4/20. Dan bowled a tidy 4 overs for 11 runs, before making way for Mat Wilkinson. Mat from his six overs was able to take 2/24 off 6 overs with both catches taken by Simon Wright, including an outstanding grab at point. Jake Howson, Graham Turner finished off the tail, with Phil Merritt in miserly form, 0/6 off two overs. The innings closed in the 27th over, setting a target of 108 for a win.
A new opening partnership saw Graham Watts score a stylish 49 and Tim Hemsley taking a few blows and batting through until the scores were level. Tim was latterly joined by Phil Merritt, Alex Hall and Simon Wright, who finished the match in the winning partnership with Graham Turner. The winning runs came in the 24th over with the 4s winning by 6 wickets.
By Tim Hemsley
1st XI vs Findon – Lost by 7 wickets
The first team were comprehensively beaten in the T20 cup on Sunday. The first team won the toss and elected to bat first. Mike Askew top scored with 34 as they posted 124-9. Findon chased the total down with 5 overs to spare.
Pictured - Dan Clarkes tea at Horsham