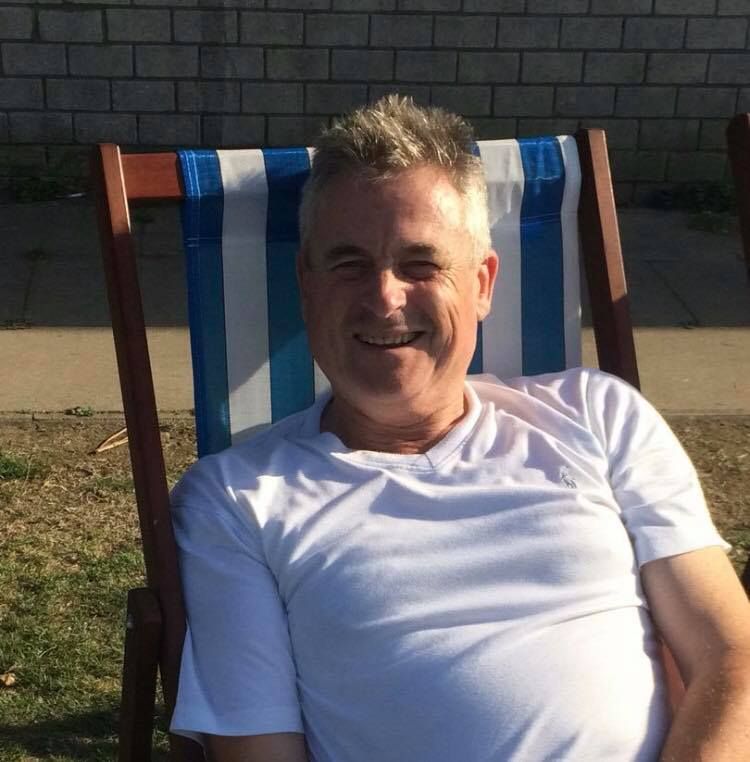 After 37 years of playing for the club, picking an all-time eleven is no easy task. I have not selected any overseas players as typically they don't stay long at a club and you could fill the eleven with overseas stars. My team includes two wicket keepers. Everybody can bat and has at least a Sussex League 50 to their name. Everybody bowls as well! So, to captain this lot and keep everyone happy will be a challenge.
1. Ken Chapman. Keeper of the LA team that won the Sussex League Cup. A very steady opening bat who will get the side off to a solid start. A wonderful athlete. Never injured. Ken has a great cricket brain and is quick to pick up on a batsman's weaknesses and set a trap. For that reason he is both wicketkeeper and vice captain. I did once keep wicket to Ken's bowling.
2. Geoff Cole. A serious sportsman in his younger days, playing squash, cricket and football. A very decent quick bowler who pulled off some amazing catches in the field. That's before you consider his 100+ centuries, all scored with just one shot! A fantastic example to the younger players. You can't score runs when you are sat in the pavilion. His shot selection is second to none.
3. Chris Kirkham. The best home grown Littlehampton player over the last 25 years. He has every shot in the book. His aggressive batting will capitalise on the sound start the openers will give us. Unlikely to bowl, but he will be patrolling the covers.
4. Rick Heberlein. The most technically correct player in my time at the club. Never quite scored the runs that he was capable of, but his innocuous looking bowling was highly accurate. Twice he took nine wickets in an innings and it is a great regret of mine that in both instances I took the other wicket.
5. Mike Askew. I had the great pleasure of managing the colts team that Mike was in. Mike has a good cricket brain and loves the game. His commitment to the club shines through. Whether it is playing, coaching or running the website. A serious batsman who I would personally put further up the order in the current first team.
6. Danny Horne. Not known as the wild thing for nothing. Bowled quick, even if sometimes a little wayward, and hit the ball hard. He unsettles opposition batting, coming on as a change bowler (no point giving him the new ball, leave that to people who can swing it). His destructive batting will give us some serious momentum in the later overs.
7. Matt Parnell. This player had everything. An opening bowler who could move it around at good pace. Keith Cannon from East Grinstead upset him and wished he hadn't. After that if Matt was flagging or we needed a wicket, I would tell him that one of the batsmen was Cannon's brother.
Matt could bat and hit the ball cleanly and hard. I had the great pleasure of being at the other end when he got his maiden Sussex League hundred after all the other batsmen including his sister had given it away.
Also a wonderful fielder. I always used to put Matt where I thought the catches would go. Normally off my bowling that was at mid off. He would take ten catches a season for me. I only ever saw him drop one.
8. Guy Souch plays as our spinner. Out of the same colts team that Rick managed with Baby Kirkham, Matt Parnell, Luke Vinter, Dazzler, Bruce Brogan, Dan Peach and Chris Hebs. Up until the age of 16, Souchy was still enrolled as a dwarf at school. His huge feet, which were half of his body mass were a clue that he was going to grow. When he did, he grew really quickly and lost the beautiful loop that he had to get the ball above the batsman's eyeline. Nothing used to phase him. I would throw him the ball to bowl at the death. Typically he would pick up four wickets for around 40.
Another top fielder who will lend further athleticism to the side. However, my abiding memory of Guy is having to drive his car home after he got injured at Preston Nomads. It was like driving a skip. I had to have another shower as soon as I got home.
9. Rob Strickland came to us from Preston Nomads. Prior to going to University Rob was a much feared fast bowler. He made himself in to a very useful batsman who would bat in the top five for most teams.
10. Tim Peters. Clarkey made it a condition to pick yourself. Can bat and bowl a bit. Should have been a better fielder.
11. Graham Gain. If I was going to war I would want Gainy by my side. Aggressive opening bowler with a pure bowling action. Another fantastic fielder. Graham left everything on the pitch and you could always rely on him to tell you what was what. Always very loyal and always put the team and winning first.
Graham played at the highest level of any non overseas player at LA, having played many games for Warwickshire second team. We looked it up in Wisden at my house one night and found that Rick and Gainy are actually on the same page in Wisden (Rick made one Sussex twos appearance).The stories are legion. If anyone wants to know about what happened at East Grinstead with Howard ask Rivo. It's a great story and demonstrates all of the above qualities.
12. As I say it has been very difficult to pick this team and many players came in for consideration. Special mention goes to Luke Vinter and Benn Challen who stuck with the club and tried to get us out of Sussex League Div 3 when they were clearly Premier League players. They got their reward at the Sussex League dinner with the Batting and Bowling awards and a full canteen of Sussex CC cutlery which despite going out clubbing only found in their jacket pockets the next morning.
Rivo misses out on fitness grounds. Mainly his injury after bowling 4 balls against East Grinstead which due to the thinness of our bowling meant that I had to bowl 26.2 overs in to the wind to Steve Pollard.
Apologies to Hugh Milner (an Ashes winning skipper), Chris Heberlein, Jimmy Askew, Chris Hanks, Tom Lee, Bill and Malcolm Lock and Daren Matura. Disco is twelfth man and will come in to the team as I strain a fetlock walking back from making the toss, having yet to pass the team sheet over. Disco was a graduate of the Haringey Cricket school managed by Reg Scarlett a future head coach of the West Indies. So, he grew up playing with many first class players including Keith Piper, Mark Alleyne and Carlos Remy. He hit the ball with tremendous power. You could cut down his bat and make three nice ones out of it. One of the nicest guys you will ever meet. For many seasons he drove down from Enfield to play for us every week. Watch out for the cockspur after the game!!!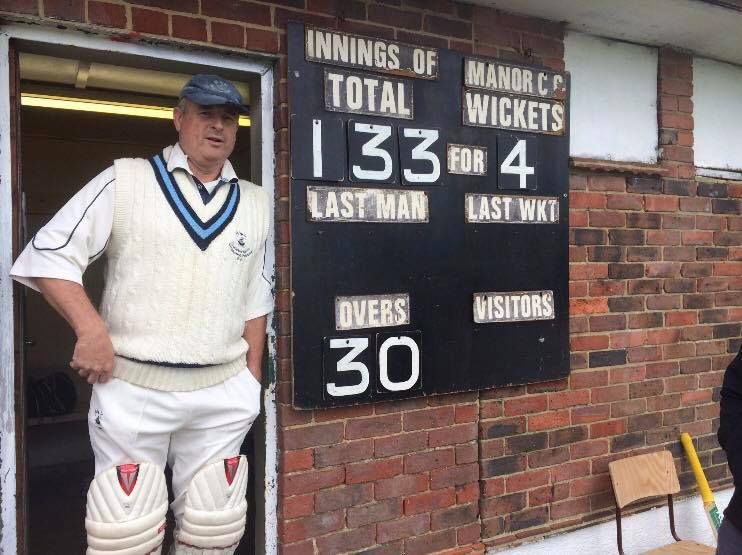 Best XI I have played with or against.
Gordon Greenidge. Hampshire, Barbados, West Indies. 7558 Test runs with 19 centuries. Was brought up in Reading and played a few games for our G4S company team. Gordon fielded at slip and a catch was going straight to him. I had visions of Ct Greenidge Bowled Peters in the scorebook. Unfortunately, our keeper poached it. I never forgave him. His excuse…well Gordon might have dropped it!
Sidath Wettimuny. Sri Lanka. Wisden Cricketer of the year 1984 after making 190 against England at Lords. National Selector and Test referee. Played for a number of years in the Chiang Mai 6s. Needing 20 something off the last over, I somehow managed to hit the first two balls from Sid for 6. I didn't see the third one until it hit me in the head. Game over.
Ravi Ratnayake. Sri Lanka and 12th man for the world XI against MCC at Lords 1988 for the MCC bicentenary. Sri Lanka ODI captain and opening bowler. Used to play in the same team as Sidath at Chiang Mai. He normally batted at 8 for Sri Lanka.
The World XI had a warm up game prior to the MCC match against Lancashire. Patrick Patterson the express and aggressive West Indian bowler was playing for Lancs. Allan Border asked Ravi to go in at No.3, so he could bat down the order.
4. Trevor Chappell. Australia. Forever remembered for bowling underarm against New Zealand and is heartily sick of talking about it. Was a Chiang Mai regular until his retirement after being hit in the mouth.
5. Chris Gladwin. Essex and Essex Seniors. Was on the verge of playing in the Ashes in 1985. Unfortunately, Graham Gooch wound up Malcolm Marshall who took it out on Chris. He had his helmet split and lost his confidence.
6. Ian Pont Essex and Essex Seniors. Now a revered fast bowling and fielding coach.
7. Ross Ormiston. Central Districts and Wellington. Another Chiang Mai regular who now lives in London. Tells many very funny stories about Jeremy Coney whom he played a lot of cricket with.
8. David Ward Surrey. 8139 first class runs. HS 294. The over 50s had the pleasure of playing against Wardy the day after his 50th birthday. Scored a hundred off about 15 overs, before being run out at the non-strikers end. Defended the good ball and smashed everything else. Great value in the bar after with a wealth of stories.
9. Shane Thompson. New Zealand, Northern Districts19 Test and 56 One Day International appearances Tests. 958 runs and 19 wickets. Shane turned up as St Albans overseas player to play against Highdown, which was a mixture of Ferring, Clapham and Chippingdale. Yes. I did try to bounce him. I think the ball is still in orbit somewhere.
10. Amal Silva. Sidath's opening partner at Lords in 1984. Also made a hundred in the second innings. Another regular at Chiang Mai.
11. Darren Cousins. Essex and Northants. Took 75 wickets in his last season with Northants. He then got injured and had his contract terminated. Played with him for the Surrey Vagrants in Chiang Mai. The Surrey Vagrants name was too long to put up on the scoreboard. The name being abbreviated to Surrey Vag much to my amusement.
Twelfth man is Jamie Hall of Sussex. Jamie scored 1.000 runs in a season for Sussex in 1990 and 1992. Before Sussex he played for Chichester and turned out for their last game of the season every year at Clapham. On one occasion it had rained and the game looked in doubt. As the Chichester team arrived by Helicopter after their end of season meal (top that Geoff), they left it hovering over the pitch to dry it out. Jamie was my rabbit in these games. I suspect mainly due to the amount of alcohol they had consumed at Dickie Briance's expense.