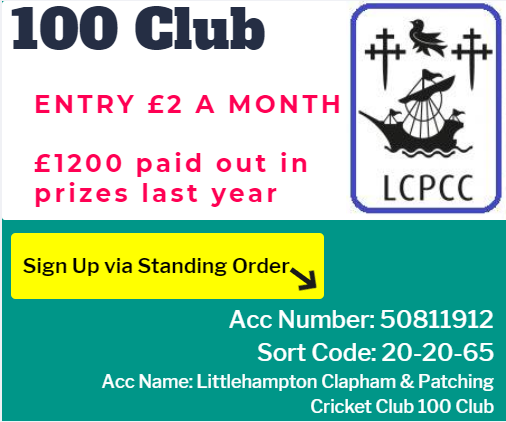 The 100 Club is a crucial fundraiser for the club; that has been running for many years. The concept is simple - people pay into the 100 club each month; and half that money goes to the prize fund and half to the club. That money has been; and is; crucial to the continued running of the club.
One number costs £2 a month; or you can buy 3 numbers for £5 a month. The details are on the image to the left. If you sign up please let a captain or Dan Clarke know. Every number we sell is a huge help to the club!
We currently have a monthly prize fund of £135 (as of September 2020) split into 5 prizes a month; of £60, £30, £20, £15, £10. There is a Superdraw boosted prize fund at the annual dinner every October.
All draws are made live on our facebook page; and results published here. Old results from 2017-2019 are available here.

143 - P Lloyd - £60
135 - M Askew - £30
66 - S Stoneham - £20
37 - M Milford - £15
45 - R Heberlein - £10
134 - M Askew - £60
7 - T Peters - £30
97 - D Rive - £20
152 - A James - £15
123 - G Cole - £10
90 - A Pyant - £60
104 - G Cole - £30
119 - R Budd - £20
107 - G Cole - £15
180 - Z Sanderson - £10
29 - J Frean - £60
94 - I Birbeck - £30
22 - S Milner - £20
138 - S Pannell - £15
69 - G Gain - £10
109 - G Cole - £60
129 - G Cole - £30
32 - H Milner - £20
100 - D Clarke - £15
98 - A Pyant - £10
144 - C James - £60
46 - R Heberlein - £30
8 - R Kitchen - £20
41 - A Pyant - £15
97 - D Rive - £10
81 - M Askew - £100
164 - A Wilkinson - £60
130 - S Pannell - £40
27 - C Heberlein - £25
117 - G Cole - £25
78 - P Hewitt - £60
178 - Z Sanderson - £30
118 - G Cole - £20
153 - A James - £15
87 - J Frean - £10
37 - M Milford £60
97 - D Rive £30
116 - G Cole £20
158 - D Tapper £15
62 - D Harrell £10
115 - M Milford - £60
96 - G Cole - £30
169 - F Harris - £20
45 - R Heberlein - £15
41 - A Pyant - £10
36 - M Milford - £60
103 - G Cole - £30
55 - T Drake - £20
42 - R Stoneham - £15
27 - C Hebs - £10
68 - G Gain - £60
37 - M Milford - £30
27 - C Hebs - £20
151 - M Mantle - £15
96 - G Cole - £10
44 - R Stoneham - £60
61 - D Harrell - £30
135 - M Askew - £20
97 - D Rive - £15
81 - M Askew - £10
40 - £60 - Pete Henry
146 - £30 - Connie James
43 - £20 - R Stoneham
22 - £15 - S Milner
4 - £10 - E Pope
28 - C Heberlein - £60
54 - J Frean - £30
156 - D Tapper - £20
133 - N Perry - £15
118 - G Cole - £10
99 - A Pyant - £60
122 - G Cole - £30
125 - G Heberlein - £20
55 - T Drake - £15
164 - A Wilkinson - £10
151 - M Mantle - £60
83 - G Cole - £30
110 - G Cole - £20
109 - G Cole - £15
74 - I Birbeck - £10
98 - A Pyant - £60
155 - D Tapper - £30
26 - D Bazley - £20
8 - R Kitchen - £15
36 - M Milford - £10
8 - R Kitchen - £100
30 - R Kitchen - £60
157 - D Tapper - £40
20 - S Milner - £25
64 - M Milford - £25
2 - E Pope - £60
98 - A Pyant - £30
13 - P Birbeck - £20
114 - N Lamb - £15
19 - R Kitchen - £10
145 - C James - £50
99 - A Pyant - £25
150 - M Mantle - £15
55 - T Drake - £10
88 - M Askew - £10
96 - G Cole - £50
23 - K Chapman - £25
73 - D Peach - £15
95 - I Birbeck - £10
20 - S Milner - £10
110 - G Cole - £50
34 - A Pyant - £25
79 - P Hewitt - £15
13 - P Birbeck - £10
119 - R Budd - £10
72 - D Bowerman - £45
125 - G Heberlein - £25
137 - Colly Olly - £15
69 - G Gain - £10
90 - A Pyant - £5
115 - M Milford - £45
93 - A Lee - £25
39 - P Henry - £15
61 - D Harrell - £10
3 - E Pope - £5
41 - A Pyant - £40
111 - S Pannell - £20
14 - D Rive - £15
93 - A Lee - £10
104 - G Cole - £5
107 - G Cole - £40
72 - D Bowerman - £20
69 - G Gain - £15
35 - D Bowerman - £10
66 - S Stoneham - £5
69 - G Gain - £40
22 - S Milner - £20
53 - G Cole - £15
122 - G Cole - £10
86 - M Askew - £5