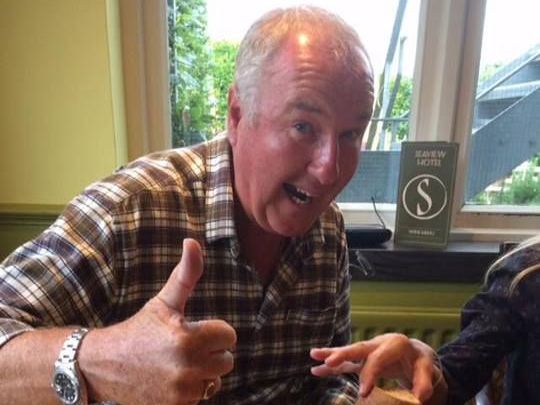 The following is a team I've played with, which must be a pre-requisite in selection, and think this would be my selection in a fantasy side to win the league by a country mile.
The team has a keeper and Captain and I feel the right balance to succeed.
1. Geoffrey Cole
You must always back yourself opening; it's a mind game you have to win; I've been called nasty, arrogant, strong, brave, patient, selfish and bloody minded ….. To succeed opening you will need all of these in spades. (I'm sure you all can add many extra traits to my list …….)
2. Martin Leggett
Every team needs an opening pairing who have a trust, understanding and confidence in each others ability; the task is to ideally build the innings and alleviate the pressure. Martin was a hugely talented cricketer and probably unknown to many. He could destroy an attack and always had that knack for a quick run, he would drop his hands and we run many a lightning single (yes I know many years ago, I hear you all shout….). Martin was also a much under rated bowler who took wickets with his swing deliveries going both ways.
3. Steve Kirkham
The prerequisite for a number 3 is that can open, you just never know ….. "Steve Kirks" had the technique and mindset along with the stroke play to open and then go on to dominate an attack ……. "Kirks" had also a very safe pair of hands, a brilliant gully, rarely putting anything down.
4. Ben Challen
Much as above; most teams that are successful always have the crucial pairing of 3 & 4, who have the same mindset and technique along with the stroke play to build an innings. "Ben" would come in, play and miss for a while and then suddenly find something special that could take the game away from the opposition. Ben also had a very safe pair of hands, was lightning across the ground in the field and brought to the team the vital "spin bowling" element that could tie down a side and make breakthroughs when needed.
5. Rick Heberlein
Here I have to quote "Winston Churchill" …… "Rick, is a riddle wrapped in a mystery inside an enigma; but perhaps there is a key". ……….
A player with an incredible technique and talent to burn with both bat and ball; known in his early cricketing days as "Prod" (Prodigy) then "Sick Note" ……. and there is the enigma …. Why would I pick "Sick Note" in my side; well in the right frame of mind he can win any game with either his batting or bowling, its just a matter of getting him in the zone. …….. Oh and he can give me a lift as well …..
6. Chris Cooke (Wicket Keeper)
Not really much you can say about a player that came to the club as a youthful 18 year old overseas player in 2005, and is now Captain of Glamorgan CC in the County Championship. "Cookey" was a multi-talented cricketer, a great wicket keeper who could slot in as an opener or a middle order batsman to suit. A brilliant temperament offset against his inability to book the right holiday week (sorry that's an in joke ….. ask Stu)
7. Stu Stoneham (Captain)
The Captain of every team is probably the most important choice, so I am selecting "Stu" as my Captain; he played through a time when every game was played with a ferocity that was tempered with the post match "cards", "cigar's" and "Cockspurs". With a fine cricketing brain he had the ability to bring out the best in players, always leading by example in the field and with his fast swing bowling. A natural leader who inevitably fell asleep in my car on Sunday's, after playing with the telly and running the battery down on all the electrics; the AA were called out a few times……..
8. Gary Tester
Picked for his bowling in this team, he was also a fine batsman with that dogged determination not to give his wicket away. Gary was a very quick "left arm" bowler who came in on a run up as long as the boundary on many grounds; his high 'lefty' action caused many batsmen to snick him to the waiting sips as the ball reared up off a length; I've specifically picked him to bowl in tandem with Luke, as the two of them we at times unplayable.
9. Luke Vintner
Much like Gary, with his high action, Luke was also a great destroyer of batsmen, always bowling on the spot and not allowing the batsmen any luxury of time to adjust. Bowled in short fast bursts with the new ball he was frightening, and then coming back later he could contain a side by extracting a little more out of the pitch.
10. Graham Gain
What can I say here about "Gainey" …..? Except ….. "Rude, aggressive, nasty, arrogant, strong, brave, selfish and bloody minded to a fault" ….. My perfect player in fact ….. The question is do I give him the new ball……… "Gainey" is a player everyone should have in his side, he can cower a batsmen just by staring at him, and that's before he even bowls a ball. Passed his pomp when I played with him, but in a fight to the death, he was the one you wanted at your side. He greatly helped Luke when he was coming through and always gave spot on advice to everyone, whether they wanted it or not. (Even opened with me on his last ever game …. Played at 5 balls, missed the lot ….. 6th took his stumps out ……. Stick to bowling "Gainey")
11. Chris Hanks
Now this is a surprise I hear you all shout ………. "Hanksy" or "Treadmill" ……. or "Hayden James's" pet monkey ……… yes I have picked Chris Hanks for his bowling, certainly NOT his fielding or batting ….. Because he was bloody good at floating the ball up in a perfect curve with his long languid left arm action, fooling the batsman into thinking, here is a "buffet ball" before his stumps were spread asunder. His simple ability to make the ball do nothing special was his call sign, bowling in tandem with Ben many teams were tied down without realising why …… Well all except "Hayden James" who scattered the caravan club in one memorable day………