News Archive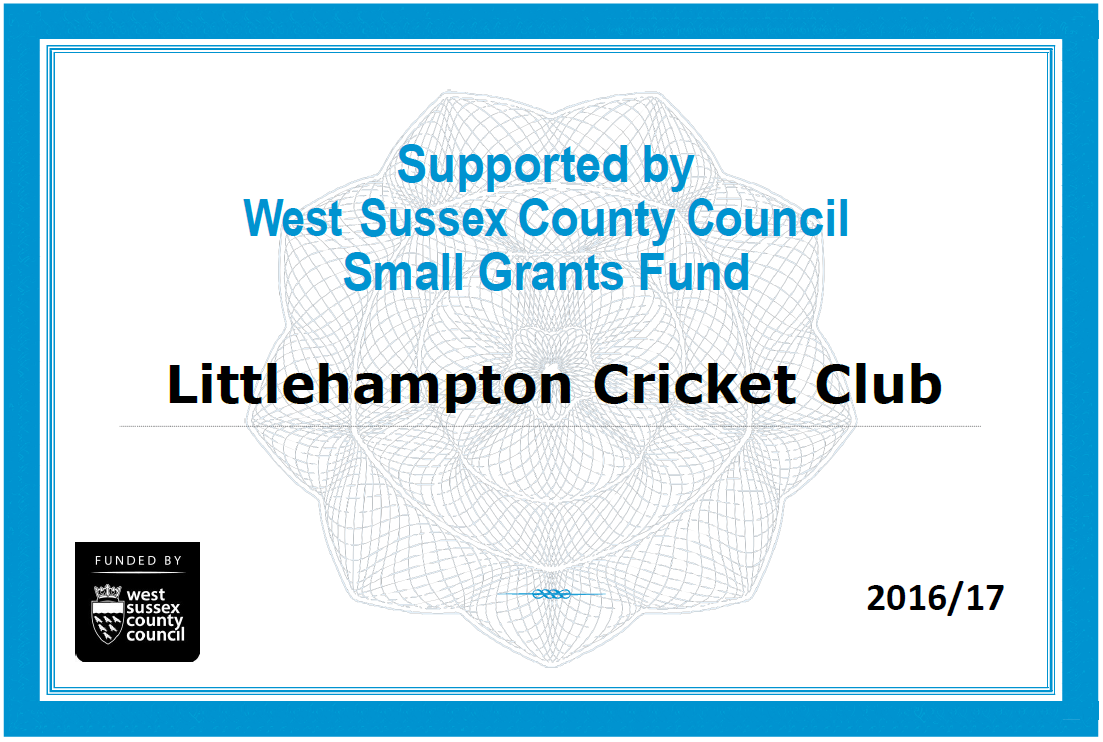 "Funding for the pavilion project was very tight and we were unable to include a security system at the time. However, I am delighted to say that we have received a grant of £600 from the West Sussex County Council Community Initiatives Fund which will enable us to go forward and implement this important work to safeguard the building and contents. We are very grateful to the County Council for their support for the club." - Alan Pyant - Cricket Club Chairman
Littlehampton Cricket Club Dinner & Presentation Evening
Venue : Littlehampton Golf Club
Date : Saturday 14th October
Time : 7.00-7.30pm
Price : £25 per person
MENU:
Starter: Tomato & Basil Soup or Prawn Cocktail or Chicken Liver Parfait with Melba Toast
Main: Carvery - Beef or Turkey
Desserts: Sticky Toffee Pudding or Chocolate Orange Cake or Cheese & Biscuits
Please get in touch with Ian Birbeck or Dan Rive to book a place with menu choices, and let them know any dietary requirements.
birbecki@hotmail.com 0771 88985511
daniel.rive@mercer.com 07775668129
2016 Club Dinner & Presentation Night
Our annual club dinne is going to be at the Littlehampton Golf Club on 15th October; where 2016 awards are presented.
Partners/friends/family of all ages all welcome.The cost per person is £25, to include a 3 course dinner and raffle tickets.
Please let your captains or Dan Rive know your attendance ASAP. Payment needs to be made to captains, or the treasurer by the night of the dinner at the latest. The Menu choice are below; please indicate your choices when booking your place.
STARTERS
Winter Vegetable Soup
Prawn Cocktail
Chicken Parfait
MAIN COURSE
Carvery Beef and/or Turkey with Seasonal Vegetables and Potatoes
Veggie or Fish Main Course option available on request
DESSERT
Sticky Toffee Pudding
Summer Fruits Mille Feux
Cheese and Biscuits with fruits and celery
2016 Cricket Player Survey Out
Have your say in the future of your cricket by filling in the survey at the link below:
Littlehampton 2s v Chipps 2 Match Report - 7/5/16
Author: Jordan Atkinson
On the first Saturday of the year that resembled any sort of cricketing weather. The 2s were looking to bounce back from their disappointing result in the first game of the season. Sun burnt Atko won the toss and elected to bat on what looked a very good wicket.
Rick and Harry opened up and punished any loose deliveries early on, both looking stylish in the early season sunshine. Rick was the first to go after putting on 61 for the opening stand. Dazzler was the next man in and quickly picked up his early season form scoring quicker than a run a ball. Harry and Dazzler went to work in setting a solid foundation. Harry was the first to 50 continuing his impressive 2s record in recent seasons. Harry was soon out after, and the goes the saying â€Ëœone brings twoâ€â"¢ the Skipper gifting his wicket away chopping on. Olly was the next in, both Olly and Dazzler punished an inexperienced attack. Dazzler cruising and look set for a 100 only until he ran himself out, from a good throw at long off from the Chipâ€â"¢s fielder. Dazzler scoring 76 from 52. Enter club captain Rivo. Olly and Dan continued the momentum, Olly especially looking good hitting powerfully around the ground. Once he reached his 50 and Rivo snicked off, Atko decided that was enough declaring on 262-5 from 42.5 overs.
Having 51 overs to bowl Chips out, Tim and Ajay opened up. Ajay looking good getting the ball to move soon had both openers out. Credit to 12 year old Baalaaj Khan who opened the batting and looks certain be a very good player indeed. Wasnâ€â"¢t long before Tim joined in picking up two wickets, Harry taking the catches. Tim almost picking up a wicket with a ball that slipped out his hand which ballooned up down the legside, the batsman looking to smash it away only to find the leading edge landing just too far in front of Jammy, (A brilliant moment for cricket). Kenneth came on for Tim and bowled incredibly well, bit of extra pace, swing, line and length were just too much from the Chips batsman. Kenneth ended up with 4-18 from his spell. For his 4th wicket aided by a diving club captain at second slip! Whitey from the other end stuck with it and picked up 2-27 including the last wicket.
A well-deserved 30 points and much more importantly a complete contrast from last weekâ€â"¢s performance with ball and in the field. Thanks to our injured bowler Nick for scoring and Colin for umpiring. Next up Broadbridge Heath (Away).
Littlehampton v St James Match Report - 23/4/16
Author: Dan Rive
Well the season finally started for the 1st XI after a number of aborted starts. After heavy rain the previous day and some hard work by a number of the players the game was on. Saturday saw the weather set fair, but a little cold.
Ally lost the toss and was asked to bat by St Jamesâ€ââ€Å¾¢ captain. Tom had the honour of facing the first ball of the season and scoring the first runs which he managed to do. Tom and Pezza progressed nicely if not at a rapid pace, but Tom did receive a lifeline as our 2nd XI captain, guesting for St James spilled a chance at midoff. It wasnâ€ââ€Å¾¢t going to be Jordanâ€ââ€Å¾¢s day as he spilled another two chances during the game. Tom was first out when he forget to listen to Pezza shout of NO, Tom just carried on running to the pavilion as he was run out. Enter the debutant Louis who along with Pezza up the run rate and the boundary success rate. The scored moved into the 80â€ââ€Å¾¢s when Pezza was finally dismissed C&B. Louis soon followed, bowled by Murray for 30. The skipper Ally didnâ€ââ€Å¾¢t last much longer as he became the first duck of the season out LBW. Jack and Harry then saw a mini revival until Harry was bowled. Quick runs were imperative as the overs where running out and Hebsy perished when a deliver got stuck in the wicket and he ballooned a simple catch to extra cover. Jack was still there knocking the ball around and accumulating runs. The next to depart was Lucas, stumped forgetting he had to put his foot back in the crease. Rive at 9 then hit his first ball for 4 and with the help of Jack scored 20 of the last two overs as LCC ended on 146 for 9. Rive was out of the last ball of the innings given Murray a 5 fer. Jack ended on 20*
A Lidl tea was had by all kindly supplied by Ally and it was time to stand in the field - a number of layers were worn.
Hebsy and Louis opened the attack against another guesting LCC player the Wasp aka Bazely. Hebsy was miserly as he managed to extract no bounce from the track as his 5 overs went for 3 runs. However, the honour of the first wicket went to Louis who got the opener to snick one behind taken smartly by All J behind the stumps. The Wasp began to open his shoulders in an attempt to prove a point but his all out attack method was his downfall as Buddy replacing Louis found the edge of the bat and Ally taking the a catch for the cameras behind the stumps. Hebsy got the 3rd wicket bowling St Jamesâ€ââ€Å¾¢ no 3. There was the a passage of tight bowling by another LA debutant Matt Clark and a combination of Buddy and Pezza. Pezza bowling his spin managed to profit from tight bowling from Matt and he snapped a couple of the St James batsman. Matt was replaced by Lucas who also managed to get two wickets, including the important wick of our 2nd XI captain Jordan.
Needing about 40 to win of the last 6 overs the 2 St James batsman began to open as Rive was taken for 12, would have been more but the umpire decided to stop one. But Rive had the final say as he bowled Sims with a full delivery. The end was nigh and the game was wrapped up by Pezza bowling St Jamesâ€ââ€Å¾¢ no 11 and LCC win by 15 runs
Congratulations to the indoor team who have just won the indoor league for the 2nd year in a row. LCC scored 93 and then bowled Davidson out for 80. The winning squad is as follows:
Dan Rive, James Askew, Darren Bazley, Andy Greig, Ally James, Neil Hewitt, Amjad Mohsin, Mike Askew, Chris Heberlein, Dan Clarke
Things are starting to move on the pavilion work. Prior to Christmas the electrics were updated and you may have noticed the window on the southern end of the building was replaced.
Planning permission was received for the new works a couple of weeks ago.
Last week our very own Harry Standing installed a water tank in the roof space to allow us to have hot showers in the summer. Harry has done a great job. Thank you to Nathan Perry for his help securing the supplies.
Quotes have been received from building contractors for the bulk of the work. A decision on who will be doing the work will be made over the next couple of weeks.
The building work should be getting started in the next two or three weeks.
Thank you to Alan Pyant, Andy Lee, Chris Staight and Paul Hewitt for all their behind the scenes work on making this project a reality.