Playing Cricket!
It was confirmed on Friday July 3rd that cricket would be back in some form for next weekend (Sat 11th July). Regulations are to be released in the coming days. The cricket committee will work as quickly as possible to comply with regulations and arrange whatever types of games are allowed to be played.
Nets
First team senior nets - Tuesday nights
Other senior nets - Wednesday nights
Colts nets - Friday nights
The artificial net in the corner remains available to be booked via our booking system.
Annual Subs
The committee have set an amount of £20 as a suggested "donation" for a senior annual sub this year. Match fees will be set once we know more about what any matches will look like.
You may recall earlier in the season, with alot of uncertainty the club asked players to pay their annual subs if they felt they could afford to. Many thanks to those that did as it offered security when we need it most. If you did, and paid more than £20, you can choose the amount you donated above £20 to remain as a donation to the club; or be a credit towards your 2021 annual subs.
We are appreciative that this is financially tough time for many and therefore as always happy to discuss alternative arrangements with anyone unable to pay.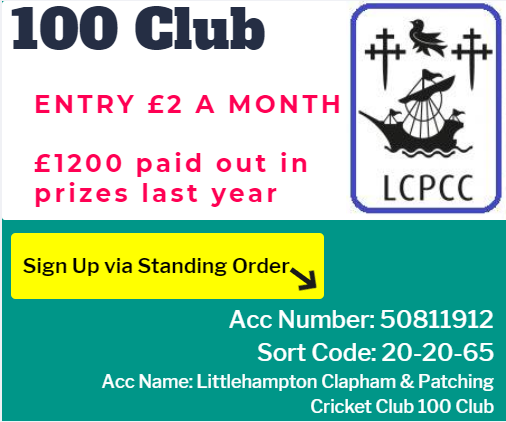 100 Club
Thanks to everyones support, the June monthly draw saw a record prize fund of £110 won in prizes - full list of winners available here.
Umpiring Course - Win the club some cricket balls
We are asking anyone who reads this to take some time to sign up to the umpiring course at https://sussexcricket.co.uk/umpiring-scoring-aco
Whichever club in Sussex has most sign ups by the end of July wins a signed bat, and most completed courses by the end of August wins a set of league balls (which cost alot!).
So if you can help the club - please do!