February Newsletter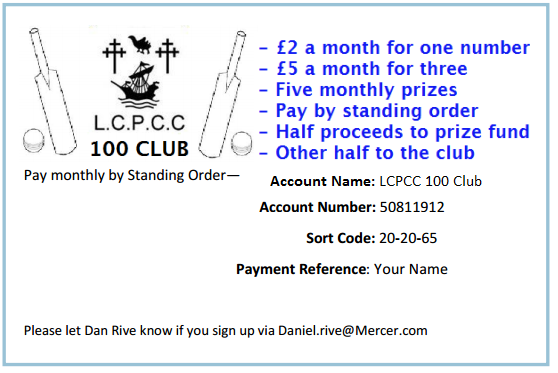 The summer is rapidly approaching and we have had our first cricket activities of the year happen in the last week or so with our indoor teams in action and our colts returning to training. We have lots of events coming up in the next few weeks and as always your support is greatly appreciated.

Indoor Teams
Both our indoor teams started their league campaign with a win at Davison Leisure Centre. The A team beat Chippingdale, while the B team beat Worthing Gentleman. Our A team took part in the county finals on Sunday and you can read how they got on HERE.
Review of the decade
Daniel Clarke has been producing reviews of the decades with some wicked stats from the decade, and he is now onto part 3. You can find them under the about us icon at the top of the page.
100 Club
The 100 club is a monthly draw with five prizes. For full details and recent winners, please visit the 100 club page HERE.
Indoor Training
Indoor training for the adults will be at Littlehampton Academy, 8pm-9.30pm, on the following dates:
Friday 13th March
Friday 20th March
Friday 27th March
Friday 3rd April
Cost per session is £3, everyone is welcome.
Tour Meeting
We will be opening the bar this Saturday (8th) for Martin Milford to give an overview of the 2020 tour to Exeter. If you are signed up, or interested in coming, please come along this Saturday from 7pm. The tour is from Sunday 2nd August to Thursday 6th August.
LCC FC vs Arun Church FC
Our cricketers are putting on their football boots once more. We are playing local side Arun Church FC on Monday 24th February. If you would like to play, contact Dan Clarke ASAP. 7.30pm kick off at The Sportsfield.
Greyhound Race Night
On Saturday 29th February we are hosting a greyhound race night. The first race will be at 7.30pm. There shall be 9 dog races shown on the big screen. As with the horse racing night dog ownership is available to buy before the night. These will cost you just £3! The dog ownership for the final 3 races will be auctioned off on the night.
Race sponsorship is available for the night at £15 per race. As with the horse racing night, for sponsoring a race you'll receive advertising in the pavilion on the night as well as extensive social media coverage on Twitter and Facebook. You will also appear in advertising for the event.
To pre buy a greyhound ownership or to sponsor a race please contact Dan Rive or Jimmy Askew ([email protected])
Colts Registration Evening
We are holding the colt's registration evening on Friday 6th March, 7pm start. There will be a short meeting and then we will need parents to fill out forms for their children and pay the required signing on fees for their children. Fees TBC.
The bar will be open during the night, and it will be good opportunity to meet the managers of the team's as well as fellow parents. If you cannot make the night then please request a registration form from Mike Askew or Dan Rive.
Poker Night
We're hosting our first ever poker night in the Pavilion. Details are:
Buy in £10
Re buys £5 (until 9pm)
Blinds go up every 10 mins
Please arrive before 7.30pm in order to start at 7.30pm
Cash bar will be open until 10pm
Contact Zack Sanderson to enter or click going on our Facebook event HERE.
Wes Campbell Memorial 6 a side Football Tournament
On Sunday 24th May 2020 the inaugural Wes Campbell Memorial 6 a side Football Tournament will take place at The Sportsfield. For full details and the entry form please visit HERE. We will need a lot of volunteers on the day so please do not hesitate to help. If you would like to help then please contact James Askew ASAP.